GetGlue is a social network for entertainment. You can check-in and rate things to discover new favorites movies, tv shows, music and books. You can also see what your friends are into, get your very own stickers and win free stuff.
I'm not sure of the exact date I registered at GG but I think that was May this year. I discovered it through a fellow Pinoy on twitter (forgot his name already). Even though I can't understand at first the logic of checking in to things like in FourSquare I did join and then forgot about it for a while. Then after a week or so I received an email that my cousin was following me in GG and then I checked it out again and try to understand how it works finally... haha. And only after a few days, I think 3 days, I was able to gain 20 stickers so I ordered my first batch of stickers and after a month here it is... fresh from NYC... ta-da...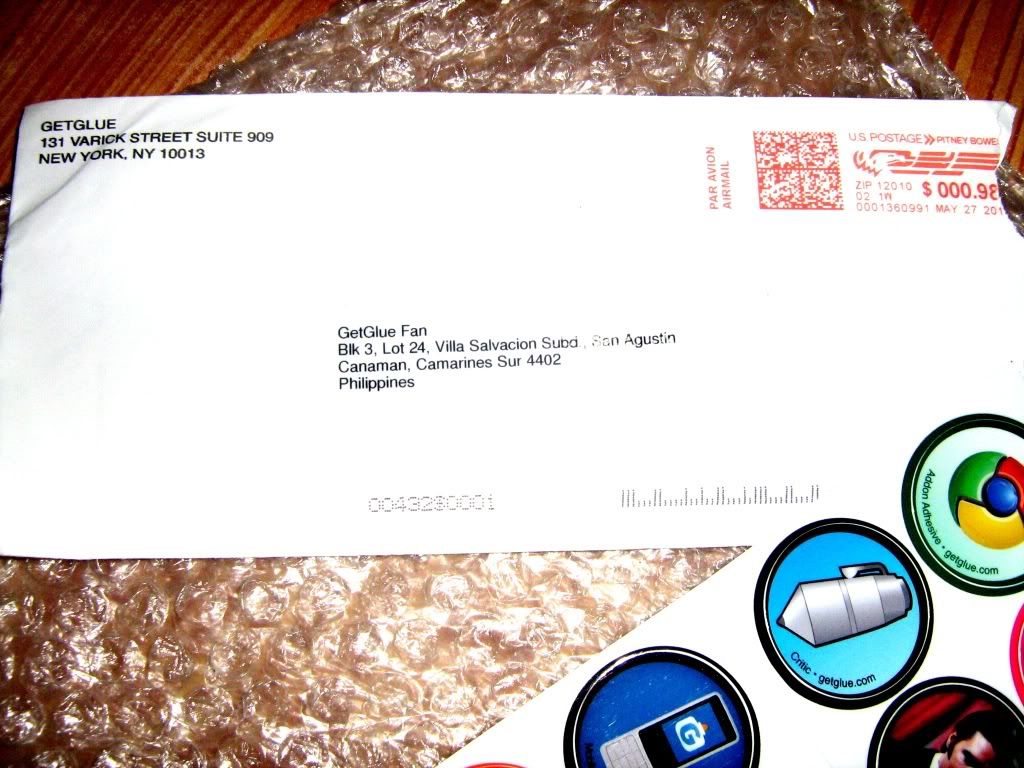 I got an opened envelope because my mother thought it was hers because it only says GetGlue Fan.
But I protest for its says GetGlue Fan and it's an obvious giveaway that it's mine... hay adults,
anyways I still got it, so fine even if it's already
opened
.
I figured it was mailed May 27 and our local post office got it June 3 then I only had it yesterday June 27, truly snail mail is pretty slow here huh?
Would you believe these are quality stickers.?
From the hi-quality paper used, printing kind and very adhesive.
I'm actually a collector of stickers, toys, key chains and stationery since I was seven but sad to say people are always getting my stuff so one day btw it's this year that I discovered I only have few stationery left and zero stickers. Darn, until now I still want to say all the four letter words I know just being reminded of that.
My collections aren't really expensive but still those are memories from childhood and just imagine how I treasure those stuff. Some stickers cost as much as my whole baon for a day or for a month combined and some are free from eating junk-foods or drinking colas or from chocolate drinks, those were frakin' priceless. Plus they didn't even ask if they can used them... aarrgh, just like that I thought the whole time I'm away from home that my things are safe but nada, just like that gone with the wind.
Anyways, now I've already relax about this so I let my mother and my late sis' god daughter to share the fun of GG stickers.
I've actually explain to them the meaning of each sticker so they won't get to drag something that isn't them or at least they know what to tell people when they were ask about it. Like the lone wolf sticker that Jonavie wanted so she just settled for the movie goer sticker. I was trying to tell them that those are my awards in GG and so they should just get the 3 free GG logo stickers instead but you know who won so here's where they stick 'em...
At least they're using them and enjoying showing it off.
My late sis' god daughter is so happy for the fact that it came from NYC... haha and I'm happy that at least I made them happy for sharing my stuff with them. Those are free stuff that came for free from my having fun in the net and the smile it brought to their faces are truly priceless.
Now I have extra reasons to be in GG more often. It's not anymore just about the free stickers. GetGlue is actually a community of its own where you socialize, talk to people and make friends while you are having fun and learning.
You'll get to discover new favorites as it says in it's self-description. Movies, TV shows, Music and Books you haven't watch, read or listen to yet. You'll get to discover and rediscover stuff, old and new through people's likes and reviews.
And yes don't forget about the FREE stickers and other specials it offers. I think these are just bonus though for the site itself is already entertaining.