According to wiki:

Pasta tossed with cheese and butter has a long history both in Italy and abroad.
It was popularised amongst US tourists in Rome by restaurateur Alfredo di Lelio who served it with his own name attached:
Fettuccine al burro is associated in every tourist's mind with Rome, possibly because the original Alfredo succeeded in making its serving a spectacle reminiscent of grand opera.
The restaurant's story is that the dish was invented by di Lelio at his restaurant Alfredo in 1914 as a variation of fettuccine al burro.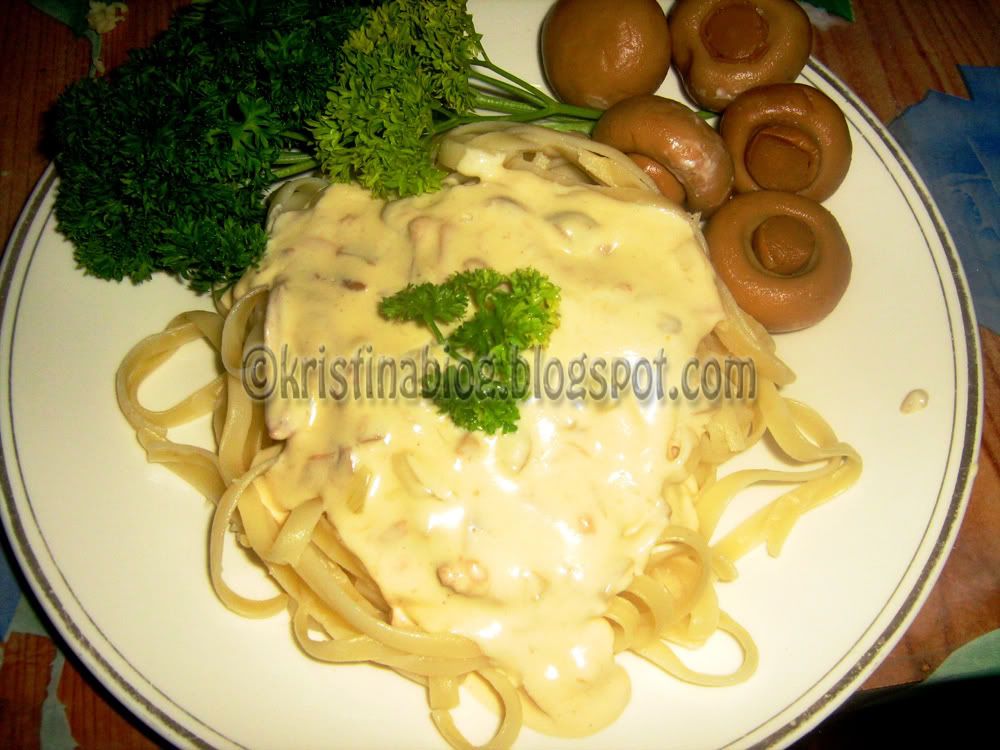 This is my very own rendition of Fettuccine Alfredo except I used linguine instead of Fettuccine. I was getting bored of the usual tomato pasta so I've tried to do a white one enough of the red for a while, let's get on with the milky white. Yep this one is still healthy and will pass for vegetarian, no meat but still very tasty.
Speckled Alfredo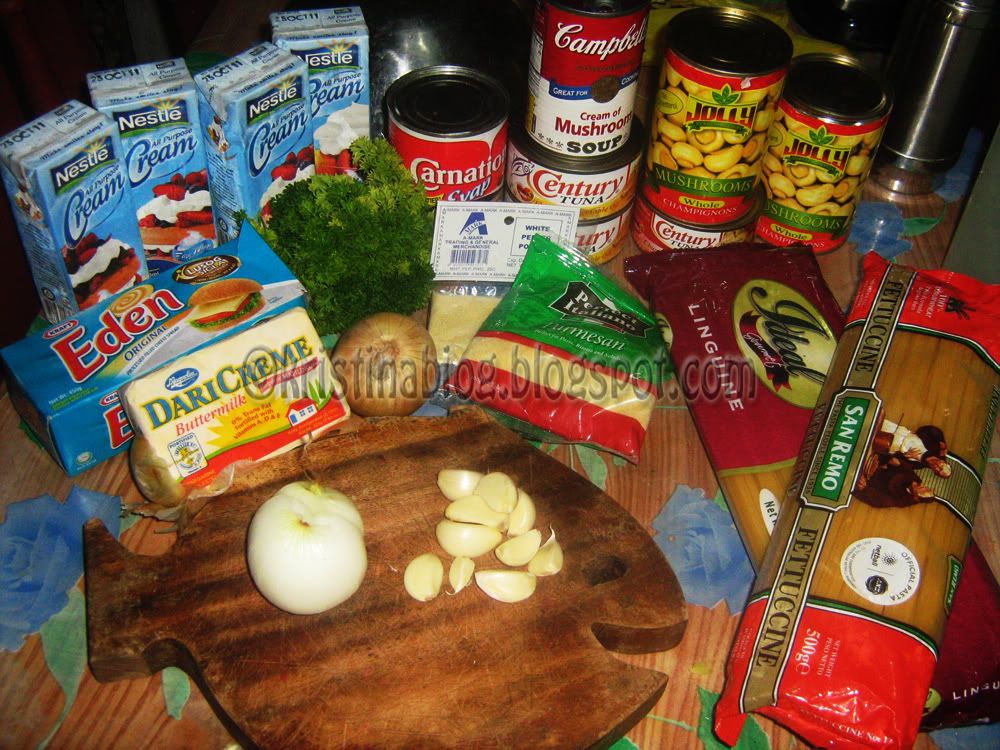 butter
parsley
1 clove chopped garlic
1 whole chopped white onion
2 cans Century Tuna
4 packs of Nestle Cream
1 can Campbell's Condensed Cream of Mushroom Soup
1/2 soup can milk
Parmesan
cheese
450g grated Eden cheese
1 small can mushrooms sliced
500g pack of Linguine or Fettuccine
salt and white ground pepper
How to mess it up:
1. Cook noodles according to package instruction.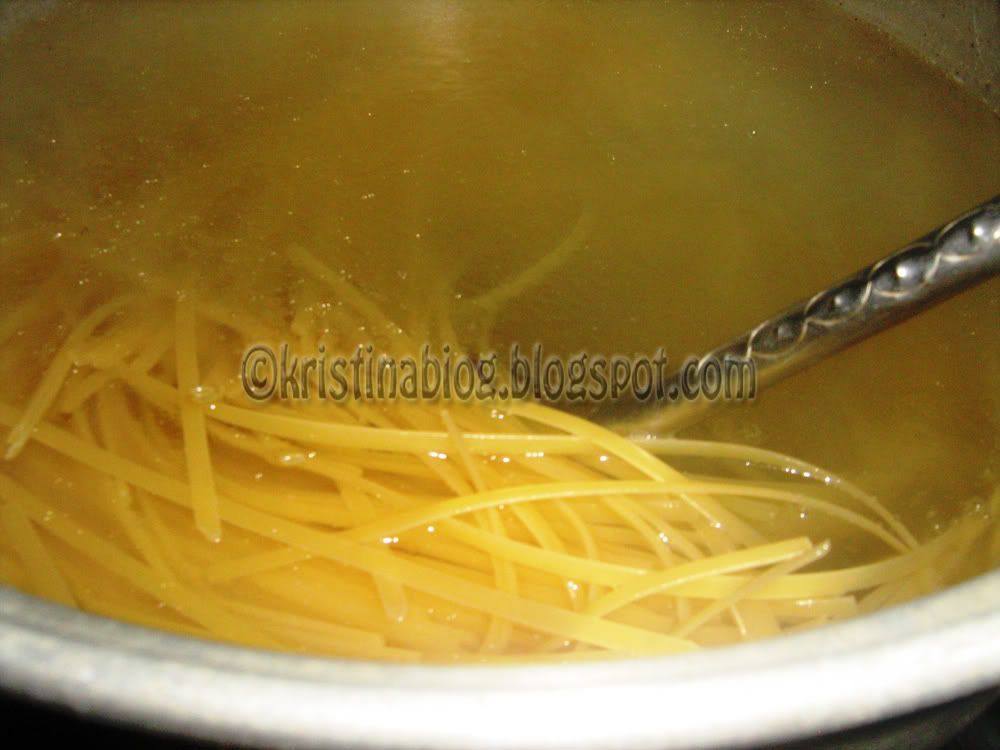 2. Meanwhile in a small bowl combine mushroom soup and milk.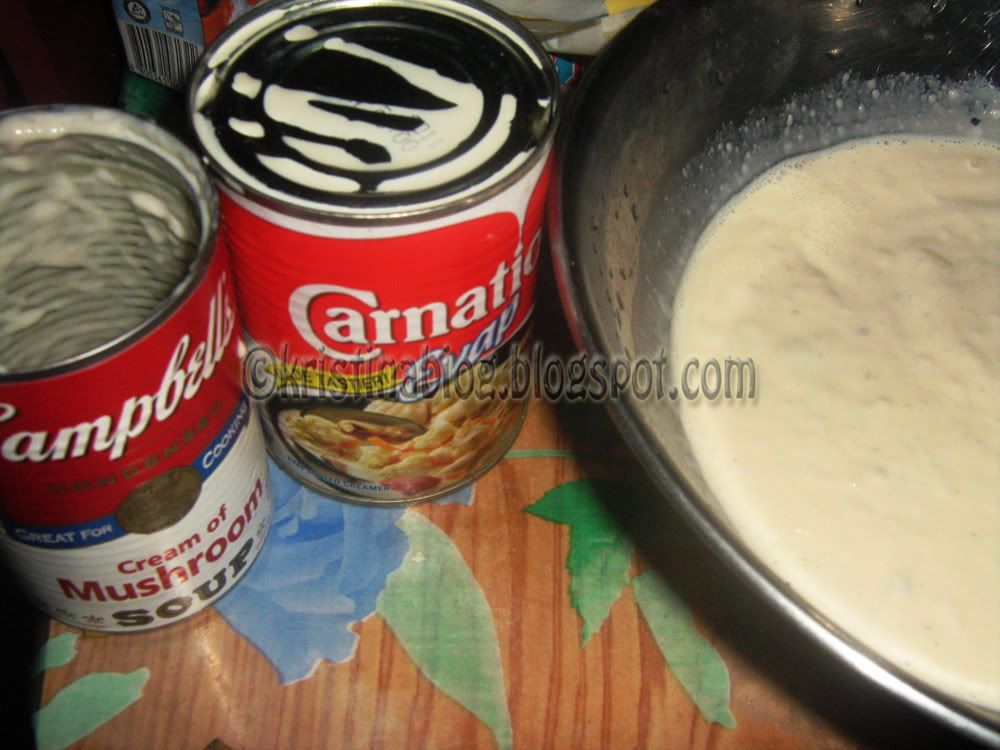 3. Add butter in a heated pan. When garlic is golden brown add the white onion then the tuna.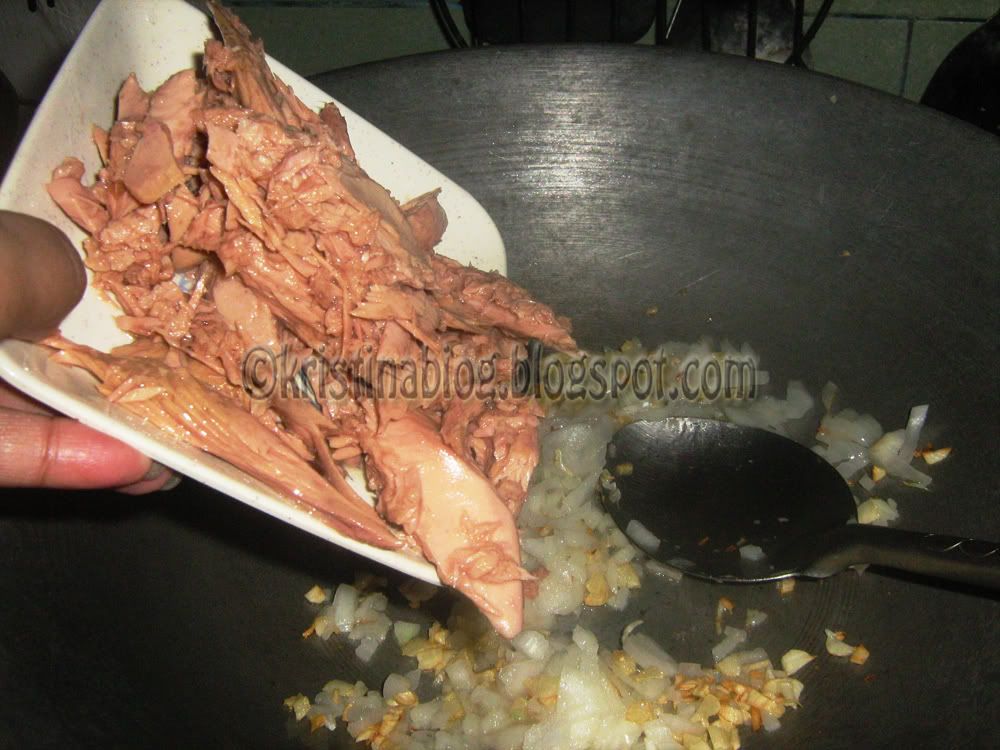 You can add more butter and try to stir fry the tuna until dried.
Toss the mushrooms.
Stir-fry it as well then add the oil drained from the tuna flakes for more flavor.
Sprinkle some salt and pepper to taste.
4. Pour in the milk and soup mixture in Step 2.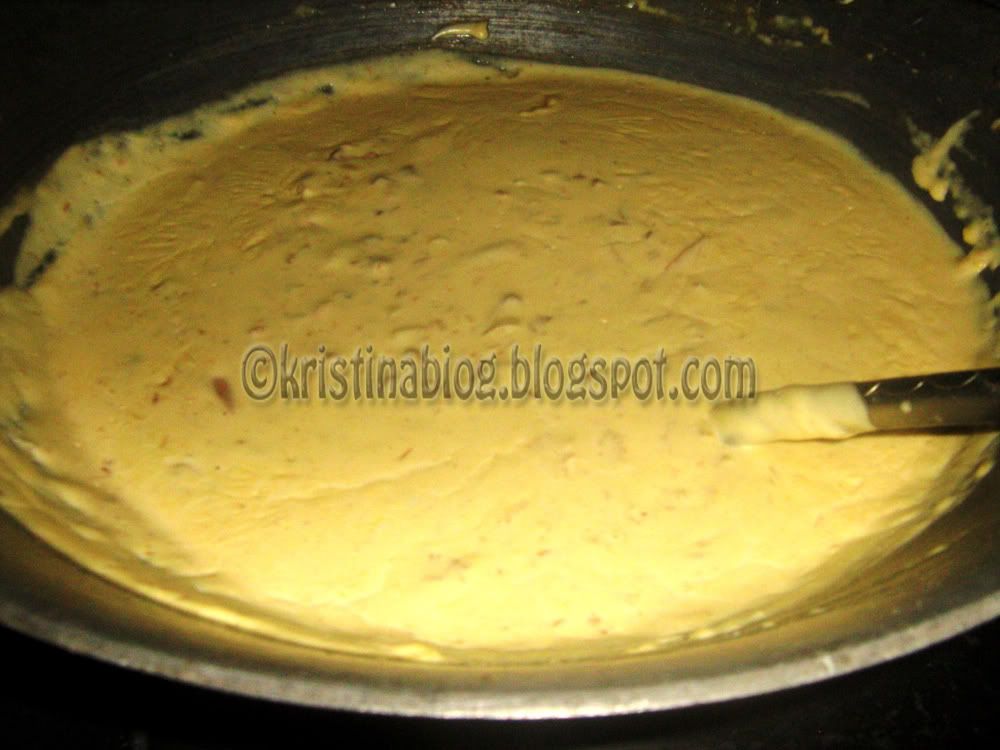 5. Add the grated cheddar cheese.
6. Mix the noodles in or you can just individually pour the sauce for each plate or serving.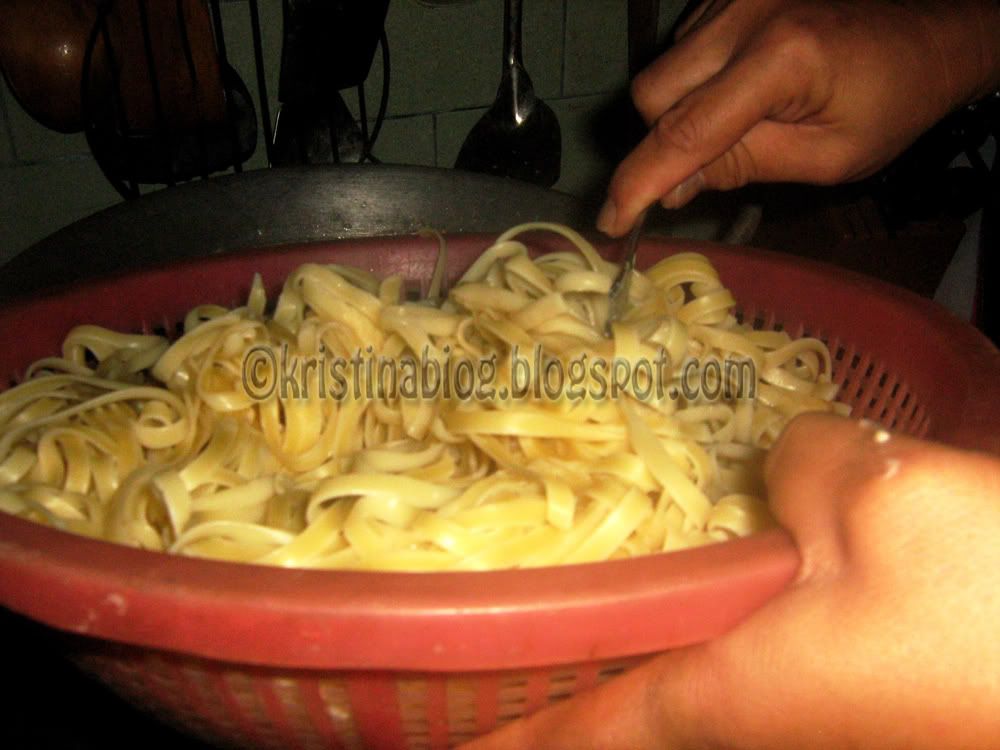 But if you think the sauce is limited go ahead
just toss it all with the noodles to have evenly distributed sauce.
But I prefer pouring sauce for every individual serving.

7. Sprinkle Parmesan cheese on top and decorate it with parsley.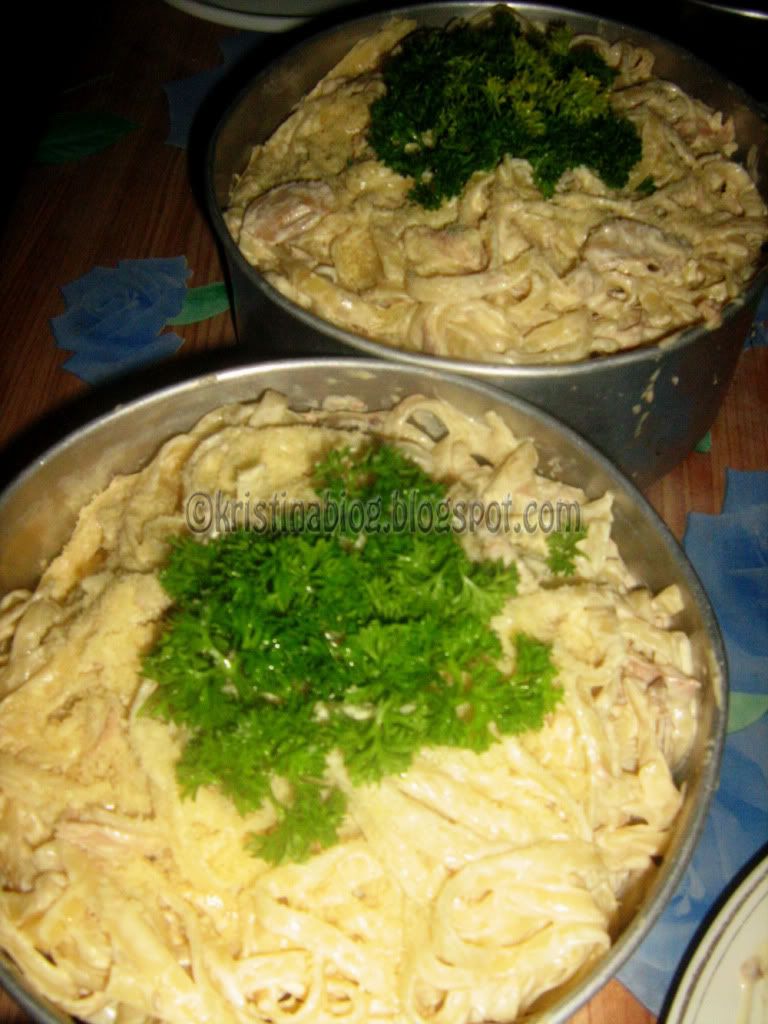 Best serve while hot and eaten the same day it was cook.