It's Wednesday and somehow I'd like to keep this as my fashion day post or at least fashion related post. I suck in fashion blogging so I'll just post anything that has lots of pictures and this will be a sort of Wordless Wednesday but with a few words or maybe tons, it depends I'm a talkative blogger... hehe.

I discovered from another bicolana's blog this Kikayism. I've known the word for a long time but I wasn't aware that there's some sort of movement, organization, affiliation or anything you might call a group that is inspired by this word. I'd like to consider myself a supporter... and maybe I am kikay too. But I doubt if I were hip or trendy, maybe or maybe not?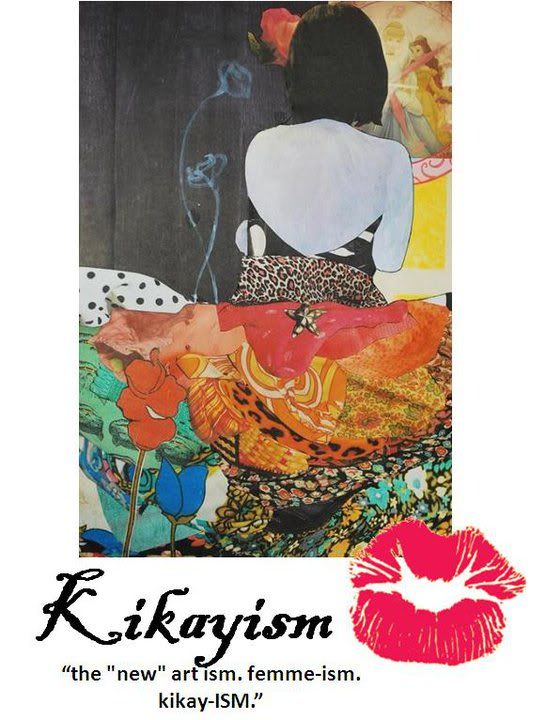 -ism" marks a word as one signifying a theory, or system of principles;

a distinctive or characteristic trait; a practice or behavior.

"kikay" is a Filipino slang word- hip, trendy, kitsch, femme.

Kikayism is a celebration of today's modern Filipina, and her desire to express herself through personal preference and style. Though she may be an admirer of art and fashion, she manages to maintain an utmost awareness of the role she plays in today's society. She is keen on advocating nationalism, aware of the different capabilities Filipino citizens are able to harness by means of skill and talent; hence, Kikayism proudly supports locally made products! In honoring national diversity, Kikayism has made it a point to promote products made from local resources in various Philippine provinces.

We hope to encourage the Filipino craftsmen and women who simply look to earn

a little extra income through their creativity and hard work.
Source: Kikayism Facebook Page
So on with my fashion post and being kikay for a day at least. This was the same day we discovered
BioFresh Flexgel
after store hopping in Iriga we went straight malling in Naga and now I realized that window shopping gives me mix emotions. Happy that it's almost like shopping but then sad that I can't buy all the things that I like... sigh. But you need to be practical or you'll end up somewhere else scary.
Don't worry I got pictures so it's just like owning them though you can see it everyday but you can't wear them anymore.
The Eye Candies
It's too sweet you almost want to eat its yumminess haha. It won't be called eye candies for nothing, right?
I heart the colors its very trendy and therefore not something I will buy.
It's cute but not really very practical. The colors are screaming.
Knowing me I know I'll get to use this very rarely since I'm more of a flip-flop or wedge gal.
But for a gift, why not? hehe
The Boho
Very festive yet simple and comfortable this one's my kind. I want to take home every pair except for the gladiators. I wasn't able to take a pic of the one I truly heart =(
The Killer Heels
This one is something you would want for a special occasion. One time big time, I won't buy you you'll probably just hurt my pocket and my feet haha. But you're cute if only I can wear you in the wet market hehe.
The Wedges
This is my kind of heels for they're tricky. They look intimidating but then very very much wearable because it's much comfortable than pumps. They're available in cute colors too.
The Parisian Plus
It's great news for people who have plus size feet. There's actually a line made just for you. They're really huge. I'm wondering are there really girls who have those huge feet? My feet look like a child's feet wearing 'em.
I just save your time for a trip to the mall. But if you still want to, go on no one's stopping you from enjoying life's simple pleasures like window shopping or just eating out. But make sure you know how to resist the urge and the impulse to buy, they're kinda like the modern gals enemy, ya know.
I got a tip, don't bring too much moolah than you need for a day that will help you fight the shopaholic in you. That way you can think it through if you really want the purchase then if you finally decided you can always go back the next day but most of the time the urge to buy gets lost after a few hours so you just save yourself a few bucks again from crazy spending in unnecessary things.
I also believe that if it's for you, it's for you so don't caught up in urgency. Then if the item was already gone when you came back don't cry over spilled milk, there are always better things to come so don't fret. You'll get what you need just the right time you need it.
Is this still about shopping? Hope so... haha.
Have a great day everyone!